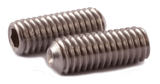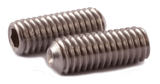 (4x) Grub screws are high quality stainless steel set screws that lock your click fins in place.
--
These screws are compatible with our Click Fin boxes. We suggest two screws per fin, one on the front left side and the other on the right back side. Stainless Steel will not rust in fresh or salt water. This is an essential spare item for your travel kit.   Removing the Grub Screw - Hints:
Old Fin Keys can (have the reputation) of stripping the end of the key
When the grub screw is rounded: if you can get the fin out first it is easier to push the screw through into the plug rather than trying to back it out.
If you break a fin and can't get the tabs out of the plug, remove the grub screw and insert the key into the hole in order to gently wedge the tab out of the plug.
If the stainless steel screw is stripped and the fin is not in the board, try turning it clockwise thus dropping it into the plug.
If the screw is stripped with the fin still in the board, place a very small drop of super glue on the tip of the key and place in the grub screw making sure that the glue does not flow over into the plug and let dry. Then pull the key out with screw attached.
Keep Shopping
Recently viewed