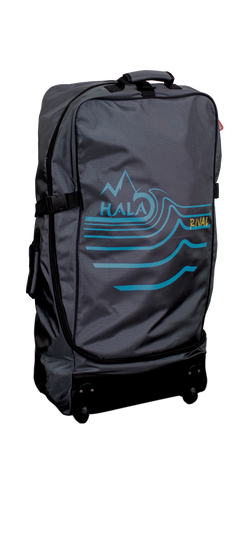 Hala Gear's Travel-Tough Rolling SUP Backpack
Portability. It's one of the biggest perks to having an inflatable SUP. But HOW you transport it makes a huge difference in your SUP experience. The Hala Travel-tough Rolling Backpack rolls easily behind you like a suitcase when the road is smooth. And padded shoulder straps combined with a waist belt creates comfort while you backpack into uncharted waterways.
An improved zipper outline make stowing your board hassle-free while 2 compression straps help to make it even more compact. So pack up and roll out on your next adventure. **ALL Rival Series Boards include this bag

Rolling wheels for easy transport
Shoulder straps with extra padding (tuck away pocket for travelling)
Hip belt for extra support
Improved zipper outline
3 x Compression Straps
Woven nylon fabric creates lasting durability
If you like this bag, check out our Backcountry Rolling Backpack. The most comfortable SUP bag you'll find, it's the luxurious experience. Extra lumbar support and an additional 2 compression straps, you'll strap down and pack out to your next adventure in style.
Backpack Size Selection
Small

44 x 27 x 95cm (17.33" x 10.5" x 37.4")
Best Bag for Rival Nass, Rival Playa

Medium

46 x 27 x 104 cm (18" x 10.5" x 41")
Best Bag for Rival Hoss, Rival Straight Up, Rival Asana
Keep Shopping
Recently viewed