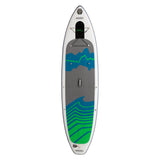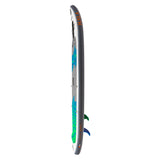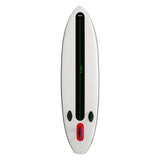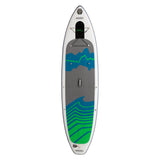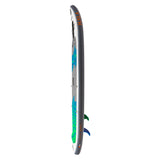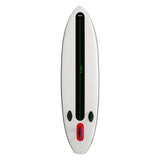 The Hoss Tour Ex is the boss for tackling big adventures! Larger paddlers, those looking for Uber Stability, and Expeditionary-Go-Getters will find adventure on this SUP - both on flatwater and easy whitewater.
The streamlined shape and Glide SUP Rocker profile provide maximum speed, and the wide hip-width preserves the stability, which has been a hallmark of the Hala Hoss shape for almost a decade.
The black strip is our new Tour Ex Material. An evolution of our carbon design, the Tour Ex material makes our boards more rigid than any other inflatable on the market. The added stiffness provides more glide, precision, and speed than a typical PVC inflatable. 
Kit includes:
Lever-lock Adjustable Carbon Paddle

Backcountry Rolling Backpack

Hand Pump

Fin

Repair kit
Why the Hoss Tour Ex?
The rigid Tour Ex material offers more glide
Bigger than the Straight Up

The large board offers more stability

Perfect for beginners and larger paddlers

Space for overnight gear, children, and pets
This is one of the best, if not the best ISUP out there in terms of rigidity."
- bill@digpaddlesports.com
Protected by Patent Number 8273427
Straight Up Tour EX
The Straight Up Tour EX is a smaller version of the Hoss Tour EX. [10'6" x 32" x 6"]
Hoss
The Hoss is the our budget-friendly large all-around SUP model. This board does not have Tour EX Technology. [10'10" x 35" x 6"]
5-year warranty
Hala Gear offers an industry-leading 5-year warranty on every SUP. We use quality materials and a unique construction process to create top-of-the-line boards that are built to last.
Every seam is double-glued and mechanically welded to guarantee durability for decades to come. No matter how many times you roll your board, how you store it, or where you paddle, your SUP will withstand any adventure.
Included with SUP: Backcountry Rolling Backpack, Paddle, Fins, Hand Pump, Repair Kit
Included Paddle: Leverlock Carbon Travel Paddle
Backpack Dimensions: Large (12" x 18" x 40")
Fin Boxes: Air7 (US Standard) Center Fin Box, Click Fin Box
Fins: 8" Center Fin, 4.5" Green Gummy Click Fin
Board Shape: All-Around, Dynamic Touring Board Shape with Glide Rocker and Tapered Square Tail
Board Construction: Woven Dropstitch Construction with Welded Seams and Tour EX Rigidity
Rigging Options: 10 Soft Rigging Points with Nose Bungee
D-Rings: Tail D-Ring
Handles: Cloth Nose Handle, Cloth Tail Handle, and Center Step-Flat Soft Handle
Deckpad: Croc Skin EVA Deck Pad with 1.5" Raised StompPad and Rear Foot Index
Board Warranty: Industry-leading 5-Year Warranty
Included Accessory Warranty: 1-Year Warranty
What's in the Kit
Adjustable Carbon Paddle

Hand Pump

Fins

Fin

Rolling Backpack
Keep Shopping
Recently viewed