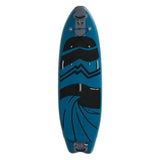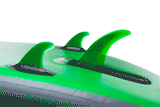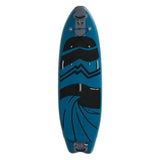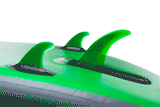 Recommended Accessories:
Through extensive prototyping and testing, we created the highest-performing and most durable Whitewater River SUP ever made: The Atcha 96. Our Most popular board, the 96, provides stability even in crashing waves and is perfect for navigating whitewater, surfing waves, and sending big drops with confidence.
Features:
9'6''

Reinforced PVC

Welded seams

Retractable Fin
Why the Atcha 96?
High-performance whitewater board

Stability in waves, eddy lines, and surfs

StompBox 2 Fin provides speed, precision, and drive

Run Shallower creeks and rivers with the Stompbox™ 2 technology
Just when I thought this board couldn't get any better… it did! The changes in the shape have made this board more stable without sacrificing any of the mobility.
- Davide Sartoni
Atcha 711
The Atcha 711 wants you to jib, surf and weave. It has Stompbox-2-drive, but there's a bit less speed and a bit more spin, splat, ollie, and swerve. [7'11" x 34" x 6"]
Atcha 86
The Atcha 86 hits a stability-meets-surf sweet spot. It wants you to stomp, spin, play and drive. [8'6" x 34" x 6"]
Rado
The Rado is a faster board that is also less maneuverable because it is longer and narrower. This board also comes with more rigging points, and a travel paddle. It is a great choice if you're paddling rivers that have long sections of flatwater in between rapids or if you are looking for a whitewater-capable expedition board [10'10" X 35" X 6"]
5-year warranty
Hala Gear offers an industry-leading 5-year warranty on every SUP. We use quality materials and a unique construction process to create top-of-the-line boards that are built to last.
Every seam is double-glued and mechanically welded to guarantee durability for decades to come. No matter how many times you roll your board, how you store it, or where you paddle, your SUP will withstand any adventure.
Included with SUP: Backcountry Rolling Backpack, Fins, Hand Pump, Repair Kit
Backpack Dimensions: Large (12" x 18" x 40")
Fin Boxes: Patented Stompbox 2.0™ Fin System, Two Click Finboxes
Fins: 9" Green Stompfin, Two 4.5" Green Gummy Click Fins
Board Shape: Dynamic and Responsive Board Shape with River Rocker and Swallow Tail
Board Construction: Thick Fusion Construction with Welded Seams and PVC Stringer
Rigging Options: 6 Soft Rigging Points with Nose Bungee
D-Rings: Tail D-Ring and Bottom Nose D-Ring
Handles: Rubberized + Reinforced Nose Handle, Rubberized + Reinforced Tail Handle, Center Step-Flat Soft Handle, and 2 Cloth Side Handles
Deckpad: Diamond Groove EVA Deck Pad with 1.5" Raised StompPad and Rear Foot Index
Board Warranty: Industry-leading 5-Year Warranty
Included Accessory Warranty: 1-Year Warranty
The Hala Gear Stombox 2 has been optimized for functionality and ease of transport. In addition to retracting upon contact with obstacles, helping you stay upright and on your SUP, it also now can be easily removed so you can take your adventure anywhere you want to go.
hala atcha 99
Big Water, stable SUP
What's in the Kit
Hand Pump

Fins

Rolling Backpack

Repair Kit
Keep Shopping
Recently viewed