June 13, 2019
SUPing in the BWCA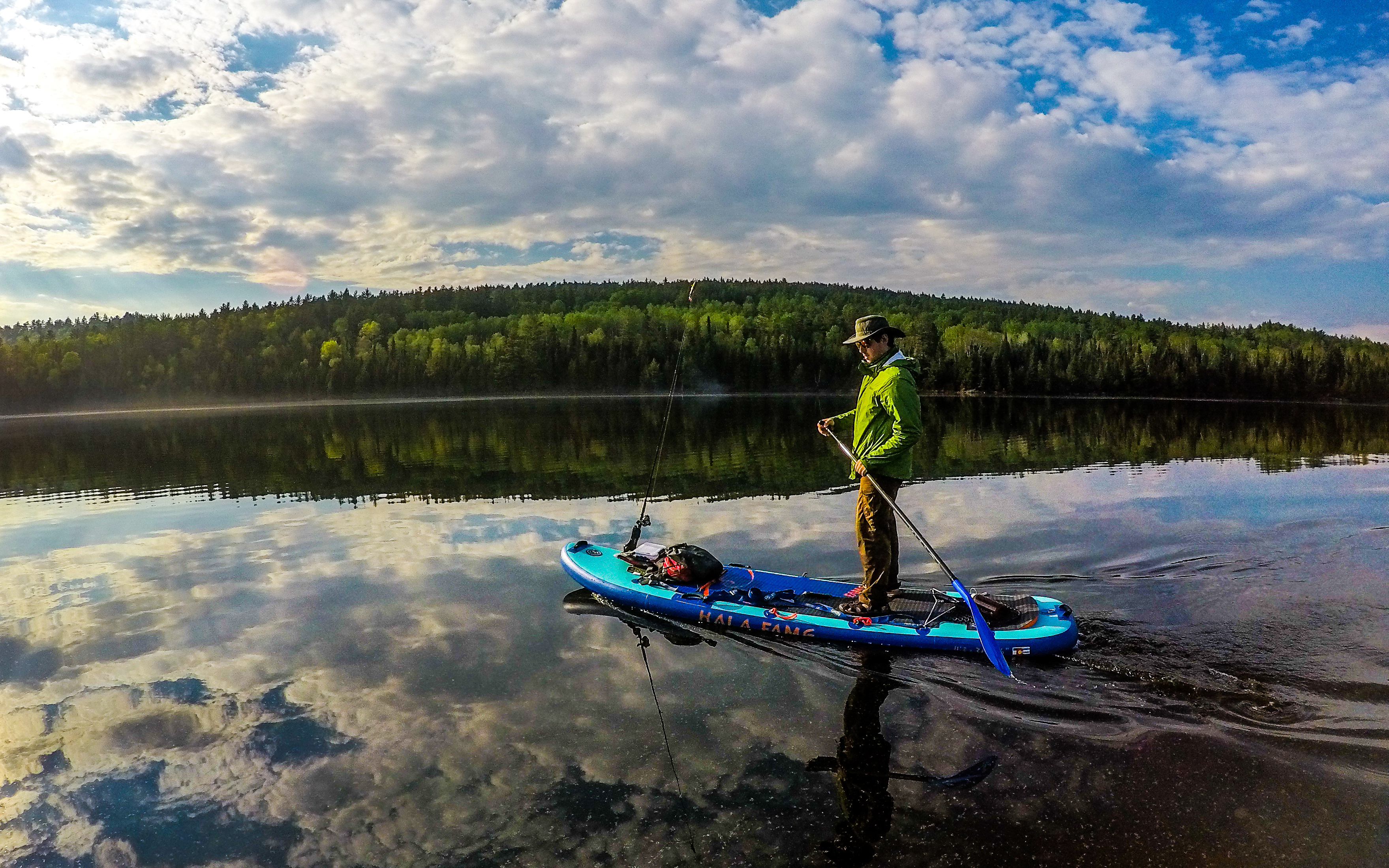 The Boundary Water Canoe Area Wilderness is hands down my favorite place to paddle in the Midwest. I'm not out there in a traditional canoe or a kayak. I'm paddling an inflatable Stand-Up Paddleboard (SUP). I know what you might be thinking, "How is that possible?!" or you are giving me that confused "WHAT?" look. Well, I am here to tell ya, it is very possible and truly a blast! It might even be easier than you think, too.
First, let me explain a bit of who I am. Name is Pete Rozeboom and I'm an adventure photographer born and raised in Minnesota. Over the years, I've traveled around the world on different adventures. Documenting everything one photo at a time. 90-day backpacking expedition in the Rocky Mountains, mountaineering in Alaska, exploring Europe and parts of Asia, and multiple road trips chasing powder and adventures around the United States of America. In 2016, I visited every single Minnesota State Park in 32 weeks. During that project I got my first inflatable SUP, because I wanted to explore all of the beautiful lakes along with hiking and biking each park. So happy I did! Paddling changed everything for me. Opened my eyes and mind for a "new" way of traveling. I love person-power modes of transportation and SUPing is 100% person-power. Not to mention, the outstanding training potential one can do with a SUP when not on a trip, with it being a full-body workout. I could go on and on on the benefits of SUPing, but this article is more about SUPing in the BWCA. So let's dive into it!
In order to SUP, one needs a board. There are tons of companies out there these days offering hard and inflatable boards. I landed on Hala Gear out of Steamboat, Colorado back in 2015. Wanted something I didn't have to worry about bouncing off rocks, sticks, and other objects in the water. Plus, something I can travel with. Hard boards are great, but they can chip, snap, and are much harder to travel with. All of Hala's boards are inflatable and build with a whitewater background with a 3-year warranty. Yeah, people run class 5 rapids on inflatable SUPs, I've personally have ran class 3 rapids. So they are built to take a beating and you can see that when you ride one. Also, being an inflatable has weight savings advantages, which is phenomenal for portaging. Most SUP companies I've seen come in a variety of shapes and sizes. Picking the right board for the right task is key. Rocking a short and super wide board is great stabilization wise, but is not going to track and glide like a longer and more narrow board will. All depends on what you are trying to do on the water.
Alright, you have your board, but what about the other gear? Bringing the right gear can make or break a trip. Having too much stuff makes portaging harder, slows you down paddling, and is just a pain to deal with. Keep it light, fast, and dry is key! Over the years, I have been figuring out the right gear combination for my paddle trips, which I got to say I am pretty happy with my current setup. I have broken down my personal gear selection on my SUPing with Rozyboom website, based on the length of the paddle.
My gear fits into a 65L Sea to Summit Hydraulic Dry Pack. Think of it as a dry bag backpack, which has a hip belt and sternum strap to help with the load. These bags are amazing!! Typically around 40-60 pounds loaded up. They also make different sizes too, I just found the 65L to be perfect for me. Sometimes an additional 35L Hydraulic Dry Bag or Big River Bag is needed too. That second bag tends to be for dry food and/or sleep system for quick setup. Plus, acts as a day bag once we get camp set up. All the cold food gets put into my RTIC Soft Pack 30 cooler. I just lay these bags on top of the board and hit the water. If conditions are rough, I will strap it down with NRS straps or a carabiner to a D-Loop on the board. Most of the time, just laying them down is perfectly fine. Remember to spread the weight across the board from side to side and front to back, erroring with more weight on the backend of the board.
Traveling with a SUP is much easier than people think. The sweet part of inflatable SUPs is how they roll up into a rolling duffle bag and extra space in the bag. It is airport friendly and fully packed tends to be below 50-pound threshold. I typically only put SUP gear in the bag like fins, PFD, leash, pump, paddle shoes, travel paddle, and stuff like that. If not flying, you can strap them to the roof rack, bare roof, or a hitch mount platform (what I do) with NRS straps. The bags help keep the boards protected during the journey and free up space inside your vehicle. Get to your destination and start pumping them up by hand or high-pressure pump.
Portaging with a SUP. "How do you portage?" has to be the most asked question I get. Don't overthink it! You can carry it by the handle like you would walking to the launch or across a beach, what we do on super short portages. My preference is to make a sling out of an NRS strap. Run it along a side on top of the board through the D-Ring spots. Bring it back to the clip to make a full loop, which should look like a sling. Toss it up on your shoulder and start hiking, adjust the length as needed. Like I said, "Don't overthink it!"
SUP-Fishing is one of my favorite activities to do in the BWCA. Always learning a new lake! Given, we have been focusing on just a few lakes to really learn them well. Locating the fish is the biggest and trickiest task, which you can use a depth finder on a SUP. Slightly modified a sensor mounting bracket and you are ready to see what is happening under the water. Find that school of Walleye deep down. Otherwise, cast, jig, bobber, troll, or do whatever to find em. You can fish standing, kneeling, kicking back on a crazy creek chair, or anyway that feels comfortable for you. I love to stand,since I can typically cast and still see my bait in the water. Crazy to see a Northern Pike or Bass hammer your bait right next to your SUP, near the surface. It looks like they are going to jump right onto the board! Tackle-wise, soft plastics are great, but I try to use real bait as much as possible. Nightcrawlers and leeches tend to only last a few days unless you can keep them cool, shade is your friend. I use a 6-foot breakaway pole, which is why I also bring a net. Helps to grab the fish while keeping the pole high and fully taught. Scoop them up with the net, pull the hook, grab the stringer, and add to the dinner menu.  Stringer we typically tie to a side D-Ring and attach it off the very back when paddling back to camp helps with drag off the back. Get back to camp, clean them up (remembering Leave No Trace Principles for disposing of fish properly), and start cooking. Nothing beats earning your meal for the day!
With so many people asking what SUPing is all about I decided to start my own business, SUPing with Rozyboom. Local Minnesota business with one main focus, to get you out on the water enjoying nature. Whether you are a first-timer, not super comfortable, trying to advance, or looking for a super fun way to explore around. I offer something for everyone! Just need to bring your personal gear, water, and snacks/food. Board, Paddle, PFD, Leash, Dry Bags, and more is all provided. I want to make it as easy as possible for people to get out on a SUP. I offer a variety of paddle options from Easy Going, Level Up, Single River Day, Private, and Destination Paddles. All paddles are tailored in their own ways. Plus, for Easy Going and Level Up paddles I am super flexible on the start time and day of the week too. I'm always willing to move around and do everything I can to get you on a board, including changing the lake/river we are going to paddle, to make it convenient for everyone. During all paddles, I am taking photos and videos of you to share and enjoy. After all paddles, I have promo codes to get you a deal on your very own Hala board! With your own board, you can join my Easy Going and Level Up paddles for free and/or get a discount on Destination and Single River Day paddles too.
If you would like to learn more about gear, SUPs, board demos, SUPing with Rozyboom paddles, and/or trip planning please contact me! I love helping people figure out gear and getting them on the water.
Lastly, no matter how you are experiencing the Boundary Waters please Leave No Trace. It is our duty to preserve, keep clean, and protect this amazing area. Stop using single-use anything. Think before buying or discarding something. As humans, we only have this one planet we all share, along with a plethora of other life. Areas like the BWCA, National Parks, and the variety of protected areas are key to the survival of multiple species, including our own. Speak up and stand up to those who are disrespectful to our environment. Without it, all species will suffer, including humans. Remember, every little bit helps!
Blog written by Hala Team Rider Pete Rozeboom and reposted from Save the Boundary Waters.