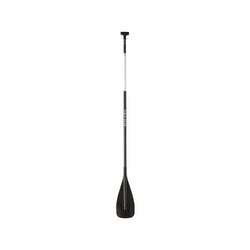 LeverLock® Adjustable, High-Strength Carbon Shaft
The Grafik Carbon High-Strength SUP Paddle is a great performance-focused, all-around, adjustable paddle. With a full carbon shaft, this paddle is extremely lightweight and durable. And the LeverLock adjustable handle gives you the opportunity to fit the paddle specific to your needs or maneuver it to share with family and friends. Get this high-performing adjustable paddle for your adventures.
The river blade version of this paddle is a tough, adjustable paddle designed specifically for paddling the river. Choose this option for optimal bracing and maximum durability for high performance on whitewater descents. Push the limits in whitewater SUP with the Hala staff's preferred river paddle!
Length: 70" - 86"
Weight: 1.55 lbs (Teardrop) / 1.92 lbs (River)
LeverLock Adjustable Handle
Adjustable Carbon Shaft
7 Ply CFRT Fibrlite Grafik Blade
Need help sizing the paddle? We recommend extending your paddle arm straight up with a loose, relaxed shoulder (to keep it in a safe extension when paddling). You should adjust the LeverLock so that your wrist rests right over the top of the handle.
--
The Grafik Carbon HS Paddle with River Blade is the go-to for whitewater paddling. A slightly thicker high-strength carbon shaft increases durability by 25% while still maintaining the extreme lightweight and durable properties of carbon. Combined with the LeverLock® adjustable handle, this paddle becomes custom to you and your needs. A 10 Ply CFRT Fibrlite™ Grafik Blade is our strongest composition to keep up with your burly expeditions. Check out the preferred river paddle by the company pushing the limits in whitewater SUP. Grab your River Carbon HS Paddle for all your whitewater descents.
Keep Shopping
Recently viewed