Outdoor brands took to Denver's Confluence and Commons parks Sunday afternoon to showcase some of their newest offerings for 2019 and give retailers a chance to paddle SUPs, pedal e-bikes and check out dozens of products from water bottles to energy bars to a stand-to-pee accessory for women.
"Demo Experience: The Urban Adventure" kicked off Outdoor Retailer Summer Market with booths at Confluence Park and paddlesports demos that allowed retail buyers to take kayaks, floatables and SUPs onto the Platte River. 
The proximity of demo day to the show was something that event leaders touted as a plus when moving the show to Denver, and free pedicab rides allowed for an easy trip to the Demo Experience from the Colorado Convention Center.
"It's going to be more convenient for more people to be able to go," Marisa Nicholson, the OR show director, told SGB for a recent preview article. "Before, you had to get off the plane, rent a car and drive an hour someplace to the demo. Now you can check into your hotel, take public transportation or walk down to check out the demo. You don't feel like it's a huge obligation but yet it's an opportunity to maybe see it when you haven't been able to before."
Though the water was low due to drought in Colorado, somewhat limiting the full paddling experience, plenty of companies had an array of boats for attendees to try.
Hala Gear, a Steamboat Springs, CO-based inflatable stand-up paddleboard company, was giving retailers a chance to take new iterations of the Peno and Playita SUPs onto the water.
Founder Peter Hall, whose company recently opened a retail store in Steamboat, showed buyers and media new, "spicier" versions of Hala SUPs.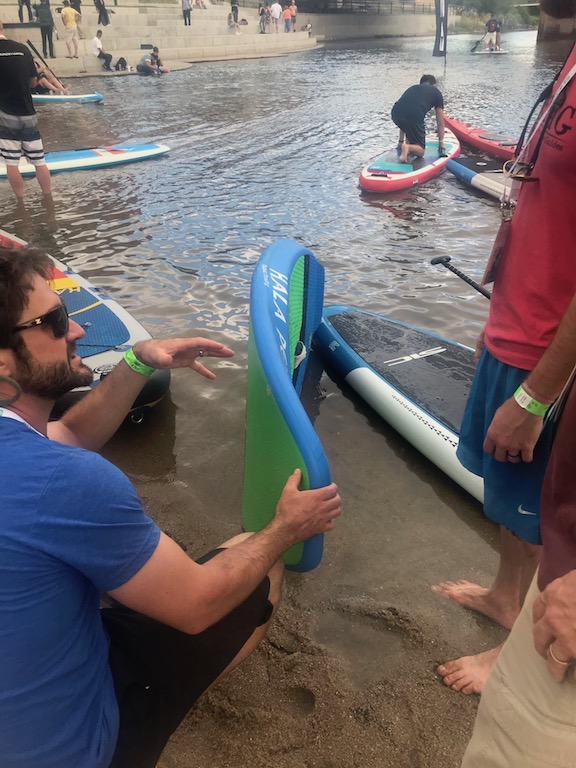 Evoke and Sun Dolphin, two of the kayak brands of newly formed Hemisphere Design Works (which SGB featured in a recent article), had recreational and fishing kayaks at the demo day, while companies such as SIC, Kokopeli, Red Paddle Co., Sol and Body Glove were also showing.
But boats weren't the only products on display at demo day. Eagle, CO-based QuietKat had the company's new Ridge Runner low-speed electric vehicle on display, which CEO Jake Roach said is the company's entry into the outdoor market after serving the sportsman's categories.
Roach is excited about the rampant growth that e-bikes are experiencing and said the Ridge Runner, which can hit 25 mph with a battery charge that will last a full day, can give adventure riders new options for exploring the backcountry on two wheels.
Tepui, which means "house of the gods" in Venezuelan in honor of the country's mountain-top mesas, is an appropriate name for the Soquel, CA-based rooftop tent company whose newest products drew plenty of curiosity Sunday.
The company's new ABS, which is a more affordable hard-shell rooftop tent, is a "game changer" for the company, according to Beth Brennan, the company's marketing manager.
She also noted the popularity of Tepui products' ability to become standard cargo carriers when the tent is removed, meaning they can provide overland adventures in the summer and carry ski and snowboard gear in the winter.
And Tinkle Belle, whose innovative product is a "stand-to-pee accessory" for women, had plenty of curious visitors to the company's booth.
Most of these brands will be exhibiting on the show floor throughout the week, providing buyers more information on availability and ordering.
Article written by Eric Smith for SGB Media.